One immersive screen that connects with your home gym equipment, and connects you with an uplifting community. Take Running, Cycling, Strength, Rowing, Boxing, Yoga, and Recovery classes from instructors you love.  
$1499 $1399
Pay as Low as $78/mo
Membership, delivery, and tax separate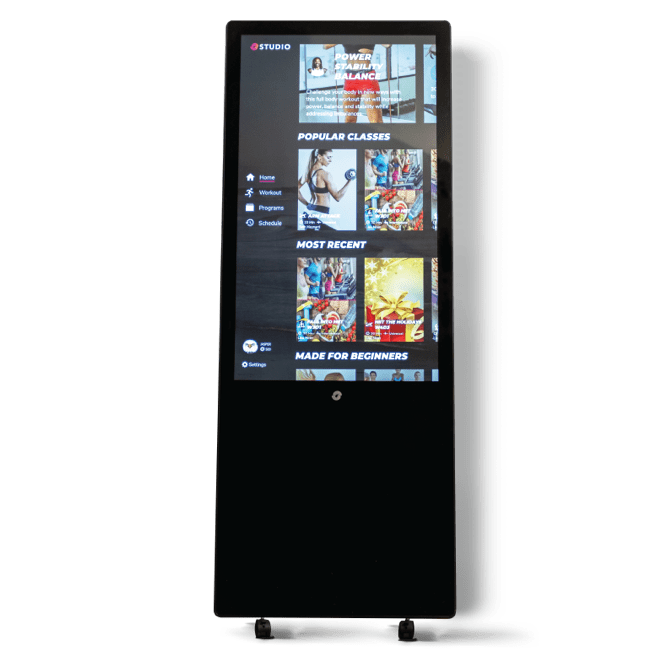 STUDIO can be delivered to your door step at anytime without the need to schedule beforehand.

Zero assembly required. You'll be able to take your first workout within 5 minutes. Unpack, power on, connect wifi, workout.

STUDIO is backed by a 1 year limited warranty. Even with the warranty, our product is built to last.
Measurements & Technical Specs
HEIGHT                           62.4 Inches   ​
WIDTH                             24.09 Inches
DEPTH                             24.09 Inches
WEIGHT                         77 pounds
SCREEN                           43 Inch 1080p HD    ​
SPEAKERS                       2x 10 Watt High-Fidelity Speakers
PROCESSOR                   Six Core 64 Bit Processor
SOFTWARE                     STUDIO OS
POWER SOURCE           AC120V, 50/60HzS
CONTROLLED BY           iOS or Android Smart Remote App​
WiFi                                   802.11 AC, 5 GHZ
AUDIO                             Bluetooth Speakers or Headphones
HEART RATE                   Bluetooth Heart Rate Monitors
FITNESS EQUIPMENT   Smart Equipment or Sensors Via Bluetooth
Have Older Equipment? Make It Smart With Sensors
The treadmill sensor allows you to retrofit any treadmill to send speed & incline data to STUDIO.
The cadence sensor allows you to retrofit any spin bike to send Cadence data to STUDIO.
Our punch trackers allow you to track punches thrown and speed of your punches.
The rowing sensor allows you to retrofit Concept 2 or Water Rower machines to measure strokes.
Got Questions? We've Got Answers.
Does STUDIO require a subscription?
STUDIO requires a membership to access our on-demand library of 2,000+ classes along with new classes that become available every single day. Our membership costs $39 per month, but can be bought with a discount when purchasing one year or two years in advance.
STUDIO was made to withstand your kids, being in your garage, and any other normal wear and tear. Unlike a television, the screen itself is protected by a strong layer of glass just like your smart phone.
Is there a financing plan available?
Yes, STUDIO offers financing and it's our preferred method of purchase. You can finance STUDIO for as low as $55/mo with ZERO down and ZERO % APR.
What equipment does STUDIO work with?
We work with any treadmill, spin bike, rower, or punching bag. There are two ways to connect your equipment.
If it's smart equipment, we connect directly over bluetooth. If your equipment doesn't have bluetooth we offer sensors for treadmills, spin bikes, rowers, and boxing punch trackers.
We also work with all Bluetooth Heart Rate Monitors.
Here are links to some of the popular pieces of equipment that have Bluetooth built in.
What countries does STUDIO ship to?
Right now, STUDIO is available for purchase in the US.